Movie/review
The Greatest Beer Run Ever Review: Vietnam War Dramedy Struggles with Tone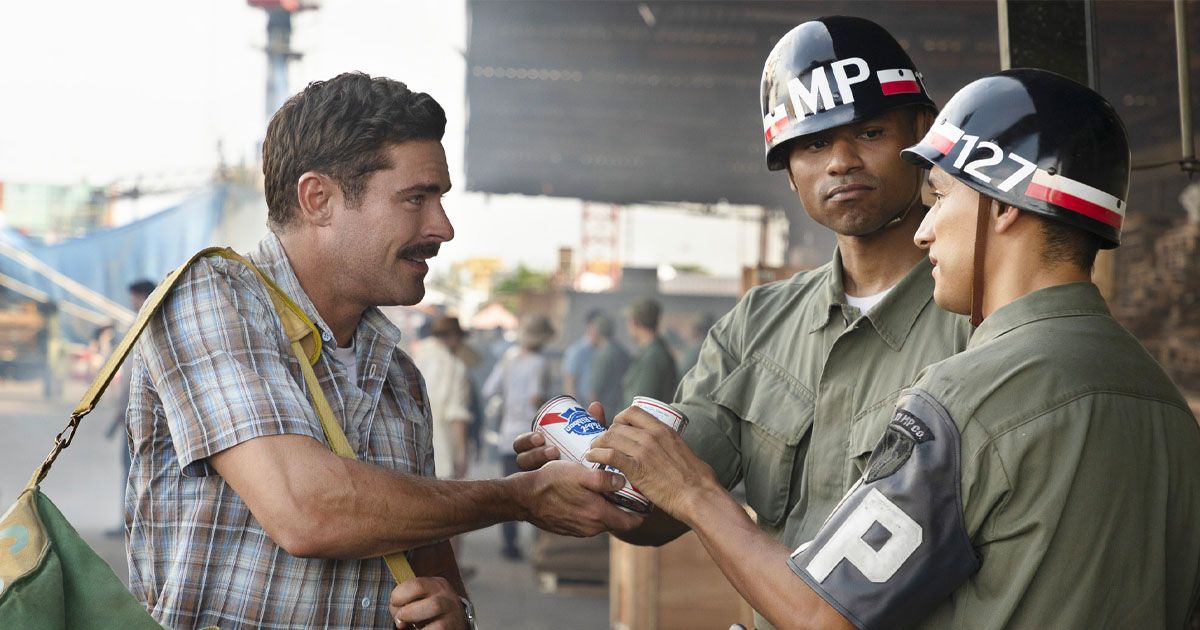 The Greatest Beer Run Ever tells the almost unbelievable true story of a man's sobering adventure during the Vietnam War. In 1967 Inwood, Manhattan, John "Chickie" Donohue argued with his younger sister about the war's media coverage. She felt President Lyndon B. Johnson and the military were lying to the American people. Their tight-knit neighborhood had lost several close friends in combat. As preposterous as it sounds, Chickie, a merchant marine sailor, decided to bring beers to his fighting buddies. The film struggles with its tone. It tries to walk the line between a comedy and depicting bloody conflict; doing neither well.
Chickie (Zac Efron) spends his nights getting hammered at the local bar with his friends. His father (Paul Adelstein) yells at him for sleeping all day. Chickie becomes irate when he sees his sister, Christine (Ruby Ashbourne Serkis), protesting with anti-war "hippies." Chickie, his pals, and bar owner, the Colonel (Bill Murray), view these people as traitors. America is trying to stop the spread of communism. Our soldiers are heroes fighting a valiant cause. Chickie thinks the liberal media is affecting troop morale.
The war continues to hit home with the combat disappearance of Tommy Minogue (Will Hochman). Chickie refuses to believe his best friend may be dead. After chugging five beers, Chickie tells everyone he'll cross the world to bring brews and friendship to their boys. No one believes he'll actually do it; then neighborhood mothers start giving him packages for their sons. Chickie books a job as a boiler technician and heads to Vietnam.
Two months later, he arrives in Saigon with a duffel bag filled with beer. He lies to get three days leave from the boat. Bobby Pappas (Kyle Duggan) is floored to see Chickie. How could he possibly do something this reckless and dangerous? A war reporter, Arthur (Russell Crowe), thinks he's naive with a death wish. Chickie refuses to stop his mission. He pretends to be a CIA operative and makes his way north… right before the North Vietnamese Tet Offensive.
Related: Louis Armstrong's Black & Blues Review: A Brilliant Retrospective of an American Icon
Societal Turmoil in The Greatest Beer Run Ever
The Greatest Beer Run Ever correctly portrays American societal turmoil. A wide swath of the country's youth believed the war was an unjustified act of aggression. We had no business interfering with Vietnam's civil war. Chickie towed the government line. He saw the spread of communism as an existential threat. It never occurred to him that the media and his sister were right.
Chickie's travels to the battlefield are fraught with peril. The lunacy of his plan begins to dawn. Chickie actually thought he could hitchhike to the front line. His arrival at Landing Zone Jane snaps him back to reality. Ricky Duggan (Jake Picking) isn't happy to see him. Chickie's presence endangers their lives. He watches as napalm incinerates the jungle and terrified villagers run for cover. Chickie gets a front-row seat to death, savagery, and chaos, all while toting a bag of brews.
Creative license must have been taken to exaggerate the story. Chickie's duffel bag is an unending source of lager. Efron has it slung over his shoulder as he doles out suds like Santa Claus. Imagine carrying around a hundred beers while ducking gunfire. The main thread becomes implausible. It's obvious in multiple scenes that the bag isn't holding anything heavy or cylindrical.
Director/co-writer Peter Farrelly (Green Book, Dumb and Dumber) wants to show an awakening. Chickie's patriotic fervor gets a bloody check when he sees bullet-riddled bodies and soldiers searching for their limbs. Crowe's Arthur reminds Chickie that the truth, no matter how painful or unsettling, must be told. The Greatest Beer Run Ever gives a well-intentioned man his comeuppance. It never holds a humorous footing. War isn't a funny business.
The Greatest Beer Run Ever is a production of Apple Studios, Skydance Media, and Living Films. It is currently in limited theatrical release with an AppleTV+ plus debut on September 30th.
Share this news on your Fb,Twitter and Whatsapp
NY Press News:Latest News Headlines
NY Press News||Health||New York||USA News||Technology||World News