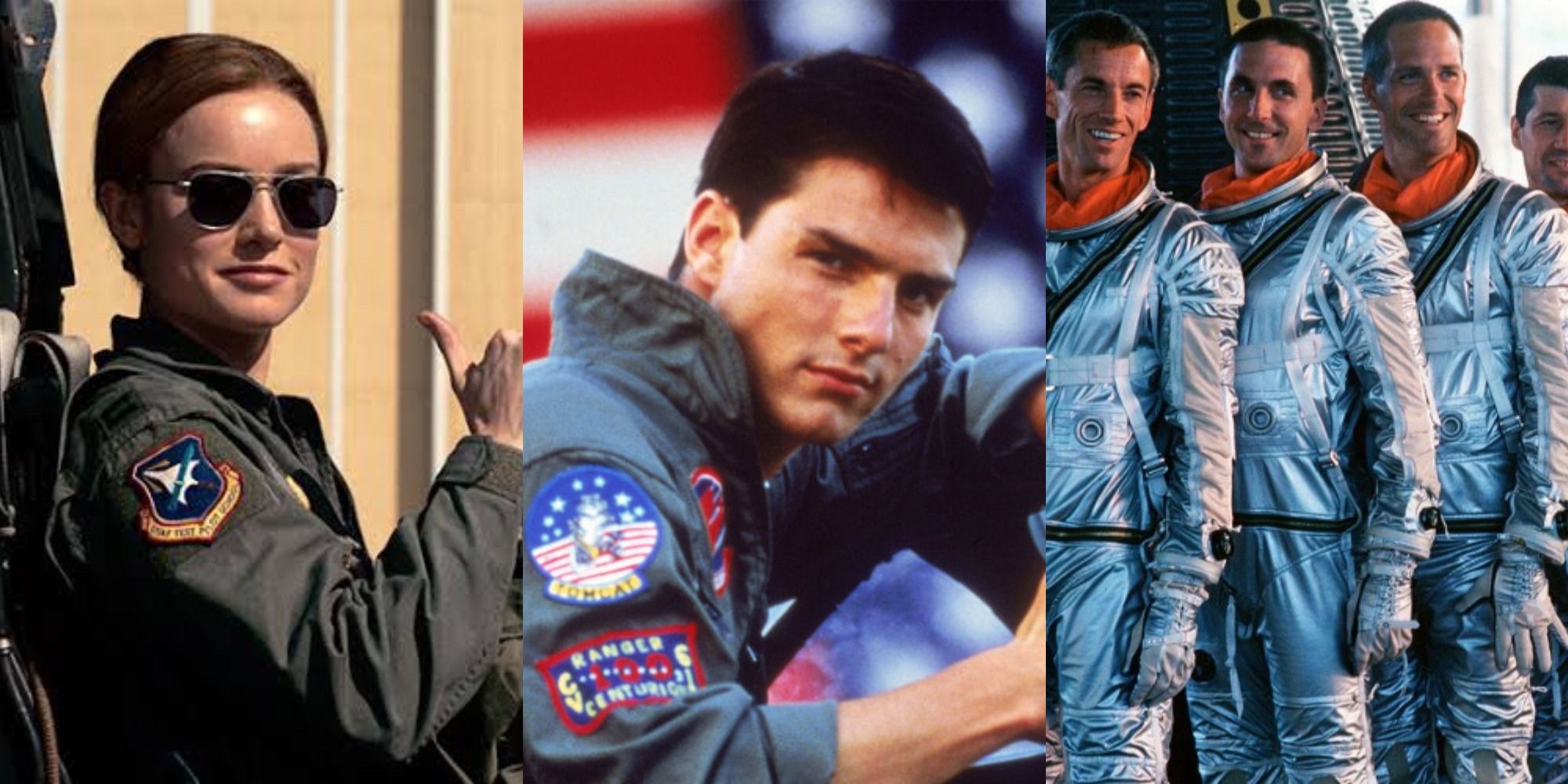 Top Gun is one of those quintessential 80s movies, and despite some admittedly dated moments, it still holds up as an exciting action film. Tom Cruise became an A-list actor playing Maverick, a cocky Navy fighter pilot in a competition to become the best of the best.
Cruise's charming performance, Tony Scott's stylish direction, and the intense flying sequences make the film stand out among imitators. While the long-awaited sequel Top Gun: Maverick will be hitting theaters soon, the other best movies like Top Gun will satisfy that need for speed.
Updated on May 23rd, 2022 by Colin McCormick: After many delays, Top Gun: Maverick will finally be released and has become one of the most anticipated movies of the summer season. Fans have no doubt revisited the original that came out nearly four decades ago. But if they are still feeling the need for speed, there are some other great movies that capture what has made Top Gun such an iconic movie and why fans are so excited to return to that world.
Only The Brave (2017)
Available on Fubo, DIRECTV and Spectrum on Demand
There is an excitement to Top Gun that all these characters put themselves through arduous training and throw themselves into incredibly dangerous situations just for the chance to be the best. That is a sentiment behind the real-life disaster movie Only the Brave.
RELATED: Josh Brolin's 10 Most Likable Characters
Josh Brolin stars as the leader of a "hot-shots" firefighting team with Top Gun: Maverick star Miles Teller as the determined new recruit. The movie follows the team as it leads up to the tragic event that befell them in Arizona in 2013.
Midway (2019)
Despite countless great World War II action movies, the kind of dogfighting warfare is not often seen in movies. Midway looks at one of the most famous battles of this kind in which the American fleet clashed against the Japanese Navy which resulted in a turning point in the Pacific Theater.
Though Top Gun: Maverick looks to be delivering some mind-blowing aerial sequences, Midway offers the kind of big CGI battle sequences to be expected from director Roland Emmerich. It also features an impressive ensemble including Woody Harrelson, Denis Quaid, and Patrick Wilson.
The Guardian (2006)
It will be interesting to see Cruise's Maverick change from the arrogant young pilot with something to prove to the older and wiser mentor figure in Top Gun: Maverick. There is a similar relationship between two characters in the action movie The Guardian.
Kevin Costner plays the head instructor at a Coast Guard academy who has to contend with the new trainee (Ashton Kutcher) who is looking to prove he is the best. While Kutcher doesn't have the same charisma as Cruise, the rescue sequences make for some thrilling moments.
G.I. Jane (1997)
Available on Fubo, Tubi, DIRECTV and Spectrum on Demand
There is something about the intensity of military training like is shown in Top Gun that fascinates fans. Another movie showing someone pushing themselves in this kind of scenario and proving their strength is G.I. Jane.
RELATED: 10 More Unrealized Ridley Scott Projects We Want To See
Directed by Ridley Scott, the movie stars Demi Moore as a woman who is given the opportunity to enroll in the brutal Navy SEALs training program. Though everyone expects her to fail, she is determined to prove them all wrong and be the toughest there is.
An Officer And A Gentleman (1982)
Available on Paramount+, Epix, DIRECTV and Spectrum on Demand
The thrills of Top Gun come from Maverick's adventures within the flight academy and the challenges he faces there. However, that is also balanced with an effective love story that helps to round out the movie.
An Officer and a Gentleman pulled off a similar balance a few years before Top Gun. Richard Gere stars as a new cadet at a Navy aviation school with a bad attitude. But through his challenging drill sergeant and his new girlfriend, he learns to push himself more than he ever did.
Pearl Harbor (2001)
Available on Prime Video, Roku and Tubi
Michael Bay's World War II epic is one of his more derided films and that's not totally unfair. Pearl Harbor is dubious in its historical accuracy, the central love story is a cheesy bore, and it suffers from the typical bloated feeling of Bay's films.
However, those who enjoyed the fighter pilot aspects of Top Gun could find enough to like in Pearl Harbor. The dogfights and aerial missions are impressive and Bay predictably creates a memorable set-piece with the central attack sequence.
Crimson Tide (1995)
Available to rent on Apple TV
Tony Scott returned to the Navy setting for a much quieter and more intense story. Crimson Tide stars Denzel Washington as a young commanding officer on a nuclear submarine. Tensions rise when he and his superior (Gene Hackman) battle over the decision to launch a warhead in an uncertain situation.
The movie uses the claustrophobic setting to increase the intense conflict at the center of the story. Washington and Hackman are fantastic squaring off against each other and they are backed by a stellar cast that includes James Gandolfini and Viggo Mortensen.
A Few Good Men (1992)
Available on DIRECTV and Spectrum on Demand
Following his rise to stardom in the wake of Top Gun's success, Tom Cruise also returned to the Navy in a very different film. A Few Good Men finds Cruise playing a brash military lawyer who is assigned to defend two soldiers who accidentally killed a colleague in a hazing incident.
The film bolsters an amazing cast with Demi Moore, Kevin Bacon and, of course, Jack Nicholson as an intense commanding officer at the center of the controversy. With a taught and fantastic script from Aaron Sorkin, the movie makes for a highly entertaining courtroom drama.
American Made (2017)
Perhaps as a way of preparing himself for the Top Gun sequel, Cruise recently returned to the skies for American Made. The film is based on a true story about Bobby Seal, an American pilot who became a drug-runner for the CIA in the 1980s.
RELATED: Tom Cruise's 10 Best Movies, According To Ranker
It's not too often that Cruise plays morally dubious characters like this, and while Seal is certainly not presented as a villain, it's fun to see the superstar step away from the hero role for a moment. It is a light, fun adventure with a winning performance from Cruise.
Captain Marvel (2019)
It's hard for any movie that deals with fighter pilots not to owe a lot to Top Gun. Though it is not a massive aspect of the MCU film Captain Marvel, the movie certainly tips its cap to the iconic movie that came before, including the adorable and deadly "cat" named Goose.
The movie introduces Carol Danvers, a Kree warrior who discovers her mysterious past on Earth which could change everything she knows. The movie is pure comic book fun with Brie Larson perfectly falling into the title role and becoming perhaps the most powerful hero in the MCU.
First Man (2018)
Available to rent on Apple TV
While Top Gun deals with the excitement of flying at top speeds, First Man deals with the terror of it all. The movie focuses on Neil Armstrong and his career in the astronaut program. Like the pilots of Top Gun, these men were willing to push the envelope, but the reality of what they were doing is far less glamorous.
Oscar-winning director Damien Chazelle creates a beautiful-looking film that will have fans gripping your seat during the intense flying sequences. Ryan Gosling is great as Armstrong in a take on the man that the public has never seen before.
Behind Enemy Lines (2001)
Despite being about fighter pilots, there really isn't a lot of fighting in Top Gun save for the ending. So for those who are looking for a bit more straightforward action in their fighter pilot movies, Behind Enemy Lines will likely satisfy that itch.
RELATED: 10 Best Military Movies, According To IMDb
Owen Wilson stars as a pilot who is shot down on a surveillance mission during peacetime and must survive alone in very dangerous territory. Wilson makes a surprisingly effective action hero and the film manages to be an effective thriller with some great sequences.
Days Of Thunder (1990)
Available on HBO, HBO Max, DIRECTV and Spectrum on Demand
Tom Cruise and Tony Scott reteamed once again to pursue their need for speed in Days of Thunder. The movie is basically Top Gun with race cars as Cruise plays a cocky NASCAR driver who will stop at nothing to be the best of the best.
Though it might sound like a bit of a retread, the whole movie is worth it for the amazing race sequences. Scott films them with the same kind of skilled eye he uses in all his films and it makes for an unexpected action-packed flick.
Hot Shots! (1991)
Available to rent on Apple TV
Though Top Gun might be a beloved film, there is a lot about it that is ripe for parody. So it's not a huge surprise it was soon followed by Hot Shots!, a hilarious take on the film from the makers of Airplane!.
Top Gun might be an easy target but Hot Shots! is comfortable going after a number of popular films. The result is a silly, outrageous comedy that will have fans laughing out loud. For those die-hard Top Gun fans, the movie is a must-see for how it recreates those famous moments.
The Right Stuff (1983)
Top Gun and The Right Stuff are both movies that explore the heroism behind the people who strive to go higher and faster. The Right Stuff is the epic tale of the men who broke the sound barrier and the speed record and flew into space for the first time.
The movie is packed with young famous faces like Ed Harris, Sam Shepard, Jeff Goldblum, and Dennis Quaid playing real-life legends like John Glenn and Chuck Yeager. The movie is funny, intense, and inspiring to see the heights these people reached and the courage they had.
NEXT: Where Else Have You Seen The New Cast Of Top Gun: Maverick?
Mission: Impossible 7 Trailer Breakdown – 11 Story & Stunt Reveals
About The Author
Share this news on your Fb,Twitter and Whatsapp
NY Press News:Latest News Headlines
NY Press News||Health||New York||USA News||Technology||World News