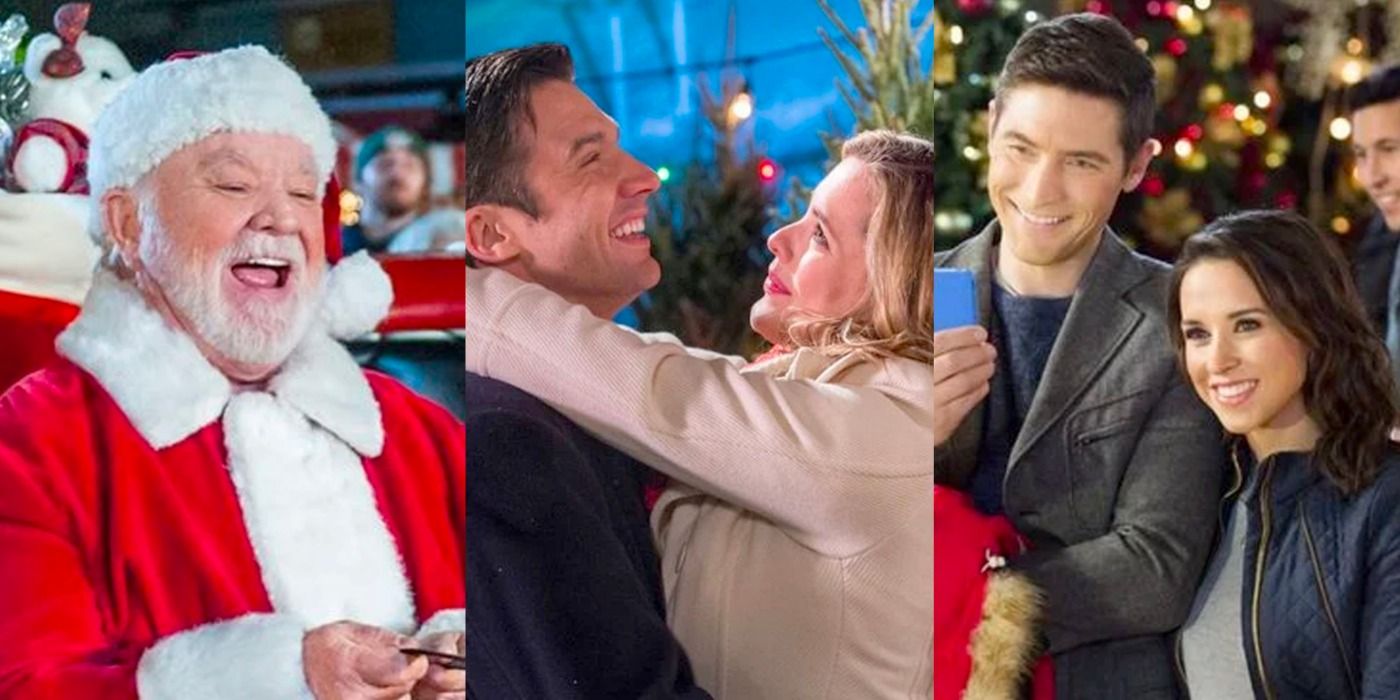 Hallmark Christmas movies have become a popular holiday tradition. They've become so successful that the films start airing in late October and other networks like Lifetime, Ion and Netflix have copied the genre.
RELATED: 10 Weirdest Ways Couples Meet in Hallmark Christmas Movies
What makes these movies so fun to watch, is that they come with a very unique set of storylines or tropes that viewers can expect to see in most movies. These go beyond average romantic comedy plots and are the ones viewers often only see during the holidays.
Updated on September 4th, 2021 by Amanda Bruce: It doesn't matter that the audience is sure they know exactly what's going to happen next, Hallmark Christmas movies provide comfort for a lot of people looking for some feel-good entertainment during the holiday season. While some of the tropes present might be cheesy or outdated at times, there's warmth, not just in the happy ending of the stories, but also in the familiarity of them. So it's always a good time to celebrate some of the most common and all-around best Hallmark Christmas movie tropes, as well as some of the worst clichés.
15

THE MAIN CHARACTER COMES HOME FOR CHRISTMAS
One of the most common tropes in the Hallmark Christmas movies, even in some of the best ones, is the return to the small-town home like in Picture a Perfect Christmas. The main character has left home and become successful in their choice of a career somewhere else and likely hasn't been home in years.
When they return, plenty of attention is paid to the things that they loved about their hometown, and the person they left behind who hasn't changed a bit. There's usually tension with their family that is smoothed over just in time for the holiday celebration and a romantic happy ending.
14

IT SNOWS ON CHRISTMAS
Even though the southern hemisphere doesn't celebrate Christmas during their winter months (but during summer, instead), Hallmark Christmas movies are all about the idyllic setting with plenty of snow on the ground. To be fair, most Hallmark Christmas movies do film in Vancouver, where there would be snow during the holiday season.
It doesn't seem to matter where the fictional small town or big city in the movie is though. There's always snow on Christmas. If there hasn't been snow, it's marked as unusual by multiple characters in the movie and becomes a major plot point as people wish for snow.
13

THE BIG RELATIONSHIP MISUNDERSTANDING
Though it might be clear to the audience that the two main characters are perfect for one another, there's always a misunderstanding that drives them apart. It might be that one of them believes the other is going back to an old relationship or leaving town, or it could be something more drastic.
In The Perfect Christmas Present, for example, the two characters are brought together when a man hires someone with a reputation for perfect gifts to figure out what his girlfriend wants. They fall for each other, but she's incredibly hurt by the deception – until everything works out in the end.
12

THE HOLIDAY COMPETITION
Many of the Hallmark movies set in small towns will feature competitions year-round. It could be a talent show at a child's school, float decorating in a parade, or something related to baking.
In the Hallmark Christmas movies, baking is usually a big one. In fact, Lacey Chabert, queen of Hallmark's Christmas movies, even featured in The Sweetest Christmas, in which her character works on the ultimate gingerbread cookie presentation, complete with a working carousel. Of course, her character finds love through her love of baking as well.
11

SOMEONE SINGS A HOLIDAY SONG
While Hallmark might be known for its romance, it's not usually a network full of musicals. There are a few summer movies featuring country music festivals, but when the Christmas movies throw holiday music into the mix, someone in the cast must be a singer.
RELATED: 5 Reasons Lifetime Christmas Movies Are Better Than Hallmark (& 5 Reasons Hallmark Will Always Be The Best)
This could mean a kid creating their own holiday song for a presentation, or it could mean rival pop stars reuniting to make some holiday magic. It could also mean the cast is celebrating Christmas At Dollywood while Dolly Parton herself dispenses dating advice.
10

CHRISTMAS IS ABOUT MORE THAN PRESENTS
No matter their age everyone loves getting Christmas presents. It's one of the best parts of the holiday for those who celebrate it. Of course, it's not the only reason to celebrate Christmas, and Hallmark is not especially subtle about reminding viewers of that fact.
Several of its movies revolve around workaholics being reminded that there's more to the season than presents. In case the audience is new to the genre, the real meaning of Christmas is love and family: something the network will repeatedly let you know, in between commercials for its newest ornaments. 
9

QUAINT SMALL TOWNS ARE BETTER THAN THE BIG CITY
While it's true that several Christmas movies take place in New York, Hallmark definitely has a preference for small towns. Sometimes, a former resident has to come home because life has taken a turn, and that's when they figure out they never should have left.
There's also a version of this story where a woman is passing through a beautiful little town on her way someplace else, and when fate intervenes, she's forced to stick around. She inevitably falls in love with the town and the local heartthrob. In the end, the message is clear, only family-friendly small towns really know how to celebrate Christmas.
8

CHRISTMAS CEREMONY WILL SAVE THE TOWN
Every city has its own special Christmas tradition. From tree lightings to concerts to parades, these events bring everyone together and force them to all get along for a few small moments. In the Hallmark universe, these celebrations are usually central to keeping the town alive.
There's never a solid reason given why the celebration is so crucial to the Hallmark town's survival. It's usually something vague along the lines of tradition All viewers know is that the fate of everything important rests on those kids singing at the Christmas concert.
7

SOMEONE IS SECRETLY IN LOVE WITH THEIR BEST FRIEND
Romantic comedies are often built on the premise that someone has secretly been in love with their best friend for years. With that in mind, it makes sense that Hallmark decided to set the trope during the holidays and make it Christmasy.
The audience knows the story. A guy or girl is in a relationship is clearly wrong for them, and even though everyone else can see how perfect the two friends would be together, the person doesn't break up with said boyfriend or girlfriend and realize who they're really in love with until it's time for the big tree lighting.
6

CORPORATE BIG SHOT WANTS TO CLOSE THE FACTORY/LODGE/TREE LOT
Hallmark Christmas movies all feature a business that's central to the plot or even the whole town. It's either a factory, lodge, department store, or Christmas tree lot like in Fir Crazy. Sadly, it's usually in financial trouble, but luckily a big corporation wants to invest! Of course, they really just want to turn it into corporate copy or shut it down completely, and they've sent someone to facilitate the takeover.
Fortunately, spending time in the charming town has melted their cold business heart and they no longer want to close down the factory/lodge/store/tree lot. Naturally, they also fall in love. It's really shocking how many corporate takeovers lead to romance.
5

SANTA OR HIS ELF INTERFERE
Sometimes problems get so big that only Santa and his elves can fix them. Whether it's a single mom struggling to make Christmas special or a man who's lost faith in the holiday, Santa seems to always be around to help random people figure out their lives.
RELATED: 10 Best Hallmark Christmas Movies, According to IMDB
What's most surprising is how concerned Santa is with the love lives of small-town residents. Fans have seen a few different movies, like Matchmaker Santa, where Kris Kringle or one of his representatives feels compelled to fix up two star-crossed lovers. The film always ends with the duo realizing that maybe that mysterious man with the beard was the real Santa Claus after all.
4

KIDS PLAY MATCHMAKER FOR SINGLE PARENT
Nothing screams Hallmark romance like two single parents who meet during the holidays and bond over creating a great Christmas for their kids. Once the kids figure out what a perfect family they make, they will stop at nothing to make their parents fall in love.
This story can occasionally veer into Parent Trap territory, but if the child actors are cute enough, it works. Single parents finding true love and making a family is a year-round favorite for Hallmark, as this one is also popular for Valentine's Day, June Weddings, and Fall Harvest. 
3

THE ALL WORK, NO ROMANCE BOYFRIEND
In order to show how great the Hallmark leading man is, the network has a habit of giving its heroines terrible boyfriends at the start of a movie. This guy is typically a very handsome, shallow workaholic who is uninterested in making a serious commitment.
Thankfully, while she's traveling to meet said boyfriend, she runs into a super nice guy who loves Christmas as much as she does and makes her see her boyfriend for the wrong choice that he is. Variations of this also feature the shallow, materialistic girlfriend and the ex loved by the parents.
2

SUCCESSFUL WOMAN MUST CHOOSE BETWEEN FAMILY AND CAREER
Of all the recurring themes Hallmark uses, this might be one of the worst. There's an often-used idea that whenever a successful woman is having a bad day, it instantly means she's made the wrong choice in focusing on her career and not having a family.
These movies often take place in a world where women aren't allowed to have both. When the moment finally comes where she has to choose, she picks having the family every time, realizing that the goals she's worked her whole life for are bad and wrong. Hallmark is clearly a family-oriented channel, but this is an insulting and outdated storyline for women who do have successful careers.
1

BOYFRIEND IS SECRETLY A PRINCE
It's not Christmas until the audience is watching the story of a girl who meets a guy with a cute accent, impeccable manners, and a mysteriously powerful family, who, surprise, is really a prince.
If there's one plot Hallmark uses more than any other, it's the secret prince and Hallmark has blended the concept with Christmastime to great success, like in A Royal Christmas. This type of story also works when the boyfriend turns out to be Santa's son. Plus, his parents are usually played by familiar '80s and '90s TV stars so there's always extra star power in tow with these movies.
NEXT: 10 Most Underrated Hallmark Christmas Movies

Next
Harry Potter: 9 Times Gryffindors Were Villainous

Share this news on your Fb,Twitter and Whatsapp
NY Press News:Latest News Headlines
NY Press News||Health||New York||USA News||Technology||World News