Movie/TV News
Hilarious Thor 4 Video Shows Chris Hemsworth Giving Tour Of Asgard Set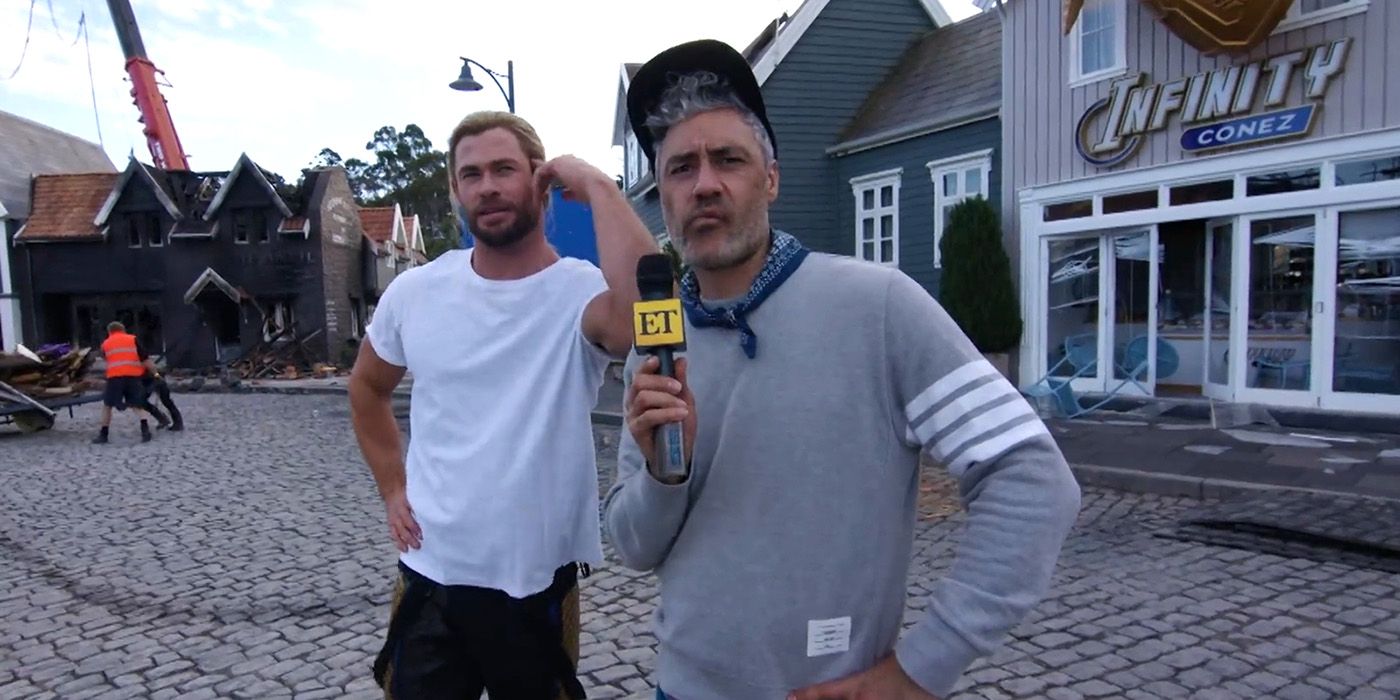 Chris Hemsworth and Taika Waititi take fans on a tour through New Asgard in a new behind-the-scenes video ahead of Thor: Love and Thunder's release.
Chris Hemsworth and Taika Waititi host a tour of the New Asgard set in a new behind-the-scenes video ahead of Thor: Love and Thunder's release. Hemsworth reprises his role as Marvel's Norse God of Thunder in Waititi's sequel to Thor: Ragnarok. Thor: Love and Thunder also stars Natalie Portman, Tessa Thompson, Russell Crowe, and Christian Bale alongside Hemsworth and Waititi.
New Asgard is one of the MCU's most storied and developed locations. Known initially as Tønsberg in Phase 1 in films like Thor and Captain America: The First Avenger, it became the site of Odin's (Sir Anthony Hopkins) final moments in Thor: Ragnarok, where he said farewell to Thor and Loki (Tom Hiddleston). After the refugee Asgardians survived Thanos' (Josh Brolin) assault in Avengers: Infinity War, Avengers: Endgame showed that the new residents had helped develop a new community, with Valkyrie (Thompson) becoming their king. With New Asgard growing into a thriving tourist location, Thor: Love and Thunder will revisit the town once more during its typical everyday state and amid epic battles. In a recent video, Hemsworth and Waititi have given fans a glimpse at the set.
Next: Thor's Complete MCU Timeline Explained
In a video created by ET Online, Hemsworth and Waititi toured through the New Asgard's set during Thor: Love and Thunder's production. During the filming of the video, the actor and director looked at the aftermath of a battle in one scene, leading the pair to damage a nearby car further. Waititi also pointed out some of New Asgard's in-universe tourism spots, such as a Thanos-themed ice cream store named "Infinity Conez" and the Asgardian Tours boat rides, while causing more chaos on set.
Click here to see ET Online's video.
Waititi previously teased how Valkyrie is handling leadership of New Asgard in Thor: Love and Thunder, discussing how the town plays a role in her character's story. In an interview released in June 2022, the director stated that amidst all the responsibilities of leading the people of Asgard, Valkyrie had become unsatisfied with her role in the town, finding herself missing her days as a warrior. Waititi previously stated that between where fans last saw her in Avengers: Endgame and Thor: Love and Thunder, Valkyrie has largely been weighed down by economic and bureaucratic matters surrounding New Asgard, trading the battlefield for negotiations with ambassadors from around the globe.
Between Hemsworth and Waititi's banter and playful chaos, the recent set tour video gives fans a moment to properly look at the Asgardian's home on Earth before Thor: Love and Thunder releases in theatres. While trailers and merchandise have shown New Asgard under siege, Hemsworth and Waititi's video takes a moment to capture the impressive details of the extensive set, along with its many nods to wider MCU lore. Between the sets' remarkable scale and the actor and director's jokes, the video tour of New Asgard is a perfect way to set up hype among fans ahead of Thor: Love and Thunder's July 8th release.
Next: Thor's New Armor Has A Major Asgard Plot Hole Problem
Source: ET Online
Thor: Love and Thunder (2022)Release date: Jul 08, 2022
Black Panther: Wakanda Forever/Black Panther 2 (2022)Release date: Nov 11, 2022
Guardians of the Galaxy Vol. 3 (2023)Release date: May 05, 2023
Ant-Man and the Wasp: Quantumania (2023)Release date: Feb 17, 2023
The Marvels/Captain Marvel 2 (2023)Release date: Jul 28, 2023
90 Day Fiancé: Emily Shows No-Makeup Pic After Massive Photoshop Fail
About The Author
Share this news on your Fb,Twitter and Whatsapp
NY Press News:Latest News Headlines
NY Press News||Health||New York||USA News||Technology||World News