Movie/TV News
Hocus Pocus 2 Reviews Say Sequel Leans On Nostalgia For Better & Worse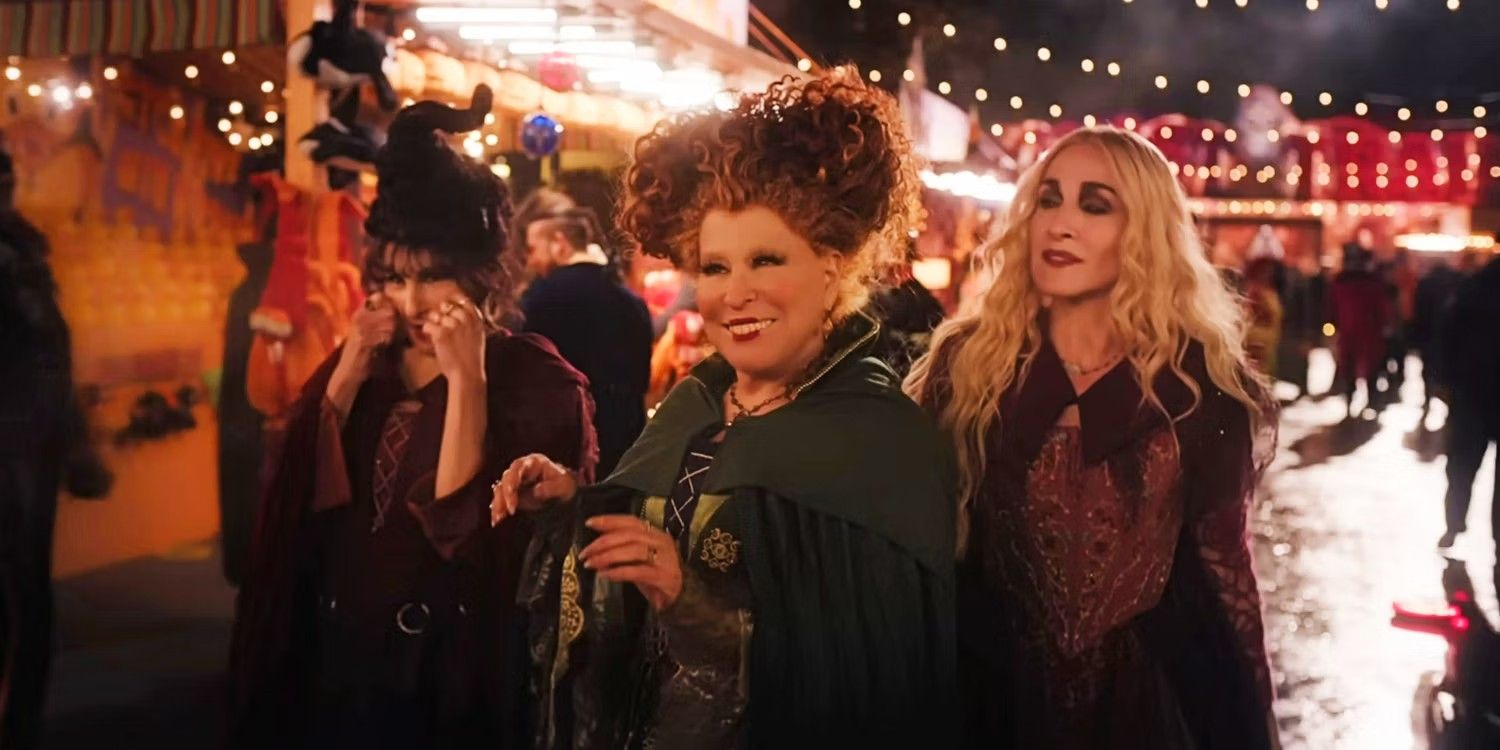 The reviews are in for Hocus Pocus 2, and critics largely disagree on whether the nostalgia-heavy sequel is a trick or a treat. The original 1993 Hocus Pocus introduced audiences to the Sanderson sisters, a trio of witches made up of Winnie (Bette Midler), Mary (Kathy Najimi), and Sarah (Sarah Jessica Parker). They drain the life force out of children in Salem, Massachusetts and are executed for their crimes. However, they return on Halloween night when a group of kids lights the Black Flame Candle, unknowingly resurrecting them and sending them on a brand-new rampage around town. That original film was helmed by High School Musical director Kenny Ortega.
This year, on September 30, Disney+ is bringing the franchise back to life with its first sequel, directed by The Proposal's Anne Fletcher. The film will reunite all three Sanderson sister actresses alongside Doug Jones reprising his role as the slapstick zombie Billy Butcherson, though it will not feature the return of the original cast of youngsters, including Omri Katz, Thora Birch, and Vinessa Shaw. This time around, a new crop of kids will light the Black Flame Candle and release the vengeful sisters.
Related: Why Max, Dani & Allison Don't Return For Hocus Pocus 2
Earlier today, the embargo was lifted on reviews of Hocus Pocus 2 and critics were able to share their thoughts on the sequel. They are largely divided on whether it has been able to recapture the magic of the original film, though its supporters seem to outnumber its detractors by a hair. One thing nearly everyone seems to agree on, however, is that returning star Bette Midler delivers a powerhouse performance and that the project should be a real Halloween treat for folks who don't mind a heavy dose of nostalgia. However, nostalgia does seem to come at the expense of the new young cast, who don't get much to do in the face of expanded roles for all three witches. Read selected quotes from critics below:
Ferdosa, Screen Rant:
The film does struggle when it comes to the script. While the novelty of the Sanderson sisters roaming the 21st century earns a couple of chuckles, the script can't quite meet the charm and charisma naturally imbued in the lead actresses, namely Bette Midler and Kathy Najimy. Sarah Jessica Parker plays up her inappropriate sex appeal playfully, but she has little offered to her, with the script seemingly catered to Midler and Najimy. On top of that, the new ensemble barely holds on, with paper-thin characters that are hollow imitations of the typical Disney Channel character.
Peter Debruge, Variety:
The movie misses the opportunity to serve up a useful portrayal of the petty divisions that drive old friends apart, while orienting itself to lecture audiences on the importance of loyalty and the perils of egotism. It's doubtful that such moral lessons are the reason anyone's watching "Hocus Pocus 2," which again blends Midler's hammy diva persona with details that feel almost too dark for a kids' movie (but have since been normalized by the likes of Neil Gaiman and Tim Burton).
Jude Dry, IndieWire:
It's the witches' world; everything else is just scenery to get these three back on broomsticks together. Unfortunately, their mean streaks seem to have softened over the years, and the movie relies on a manufactured sisterly bond to wrap things up. The script adds a saccharine sweetness along with its teen feminist morality play, as if it's far too aware of sending a message. Some things, it seems, are better left buried.
Amelia Emberwing, IGN:
The original cast return to remind us why Hocus Pocus became a cult classic, and new players give fans being introduced to the franchise wonderful characters to cheer on, although Hannah Waddingham should have been given more to do. Some shoddy greenscreen work pulls Hocus Pocus 2 down, but otherwise it feels like a Disney Channel Original Movie in a charming way.
Lovia Gyarkye, THR:
Midler, Parker and Najimy have an electric presence on screen, their chemistry virtually unchanged in the decades between films. Their scenes are the most consistently enjoyable of Hocus Pocus 2 — the moments when it feels like everyone behind and in front of the camera are under their enchanting spell.
Peter Travers, ABC News:
Is "Hocus Pocus 2" often as exhausting as it is entertaining? Sure. But the inspired lunacy of Midler, Parker and Najimy is impossible to resist, whether they're flying on broomsticks or vacuum cleaners. One way or another, as the song goes, they're gonna get ya, get ya, get ya, get ya.
Brian Truitt, USA Today:
The witches are done dirty, yet the youth movement also isn't well served. There are so many Easter eggs and callbacks to the original "Hocus Pocus" piled on that the teens don't have the focus they need to be fleshed-out heroes of the story.
How Hocus Pocus 2 Compares to the Original
The Rotten Tomatoes score for Hocus Pocus 2 will continue to fluctuate throughout the week, as more and more reviews are added to the aggregator. However, at the time of writing, the score has landed somewhere around the 68%-70% range, which is comfortably Fresh. Even if it eventually dips below the line into Rotten, it seems that the sequel will still rank considerably higher than the original Hocus Pocus, which is at a thoroughly Rotten 39%, though general audiences were considerably kinder to it, giving it a 71%.
This increased score for Hocus Pocus 2 may indeed largely be a result of the overall cultural shift in perception of the original film. Although the original film was both a critical and commercial flop, it became a Halloween cult classic on home video. Since then, it has risen to become a genuine classic in the eyes of many despite its inauspicious debut, so it makes sense for younger critics to now have warmer feelings toward the original that can then color their perceptions of the way the new movie functions as a follow-up.
Source: Various (see above)
Share this news on your Fb,Twitter and Whatsapp
NY Press News:Latest News Headlines
NY Press News||Health||New York||USA News||Technology||World News