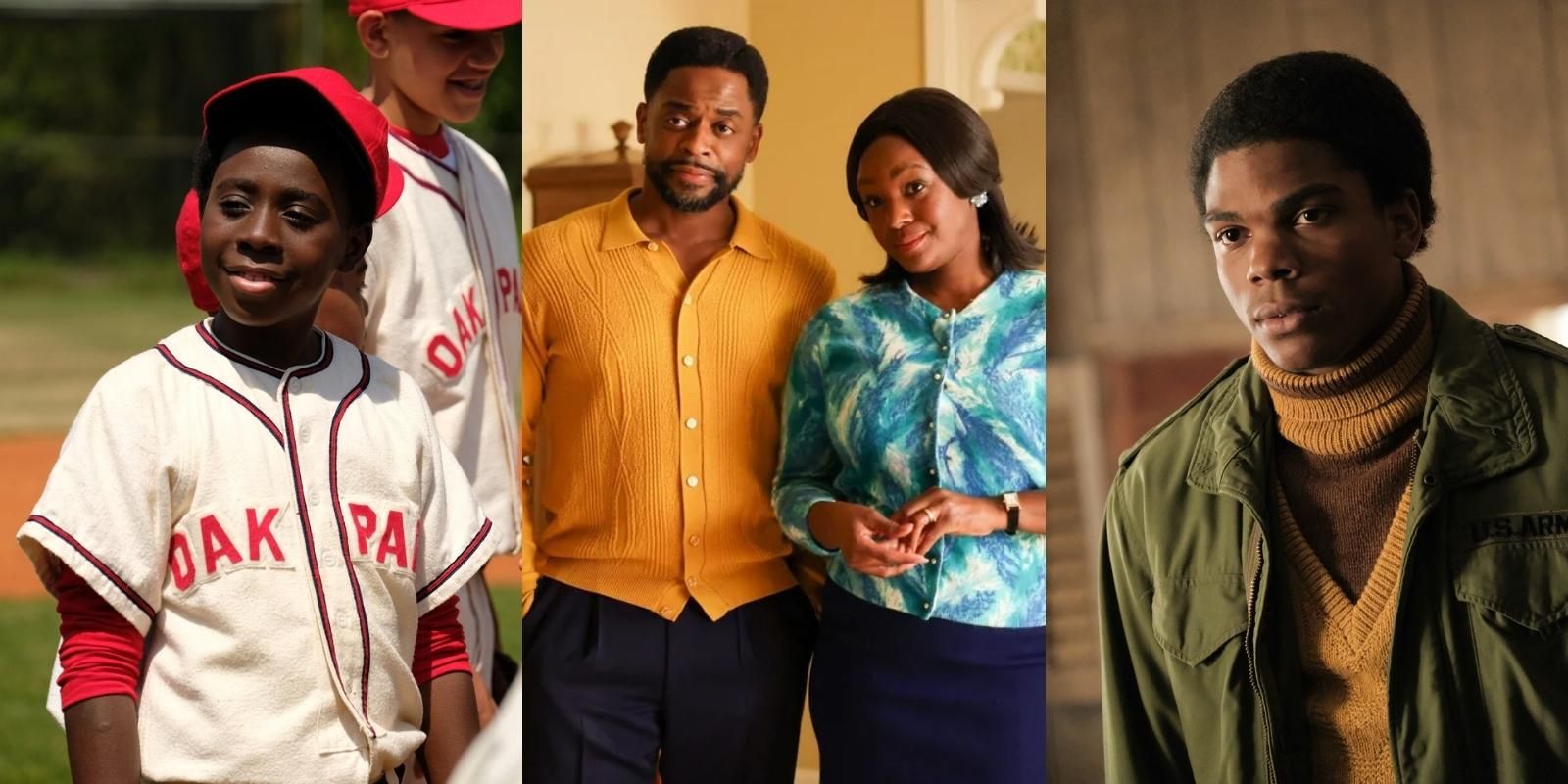 Season 1 of ABC's reboot of The Wonder Years has only just wrapped, but season 2 is already announced for a midseason 2023 debut (via CarterMatt). The season 1 finale put the series' central characters, most notably the Williams family, in a variety of exciting and unexpected situations. Dean and Keisa's young love has taken its first step with the two sharing their first kiss before the summer break, but Dean is headed to New York with his father Bill, Keisa is staying with family in Oklahoma, and Dean's mother Lillian is spending time in Birmingham as part of a promotion she has received.
Given all of these big changes at the end of season 1, The Wonder Years clearly has a lot of exciting new ground to cover in season 2 for these characters and many others. But even before these cliffhanger shakeups in the finale, season 1 has done a great job at establishing the series' cast of characters, making them all incredibly fleshed-out, with great arcs worth getting invested in.
Granddaddy Clisby Williams
As the eldest member of the Williams family, Granddaddy Clisby is a source of wisdom. But he also serves as a stark reminder of how much the world has and hasn't changed, as depicted in the different generational conflicts the addition of his character creates.
RELATED: 10 Things Fans Never Knew About The Wonder Years
When he first appears, Granddaddy Clisby is reluctant to give up the keys to his car, insisting on his independence through stubbornness and old age. But through a truly emotional episode with Dean, which finds the two of them getting in a minor accident, the softer sides of the Williams family patriarch emerge, revealing that there is much more to his character than just a grumpy old man.
Cory Long
Dean's best friend, Cory, is the perfect foil to Dean's character, even when the show doesn't always give him as much focus as he maybe deserves. Cory is more traditionally athletic than Dean, but he pushes himself to perform well academically so that he can keep up with his best friend's intellectual interests and conversations.
Dean and Cory have had their ups and downs over the course of the first season, due in large part to boys being boys and kids being stubborn and set in their ways. But, like many other iconic friendships, every time these two fight, they always make up before the episode is over. No matter their differences, Cory is just about as loyal as a friend can get.
Keisa Clemmons
As the main female member of Dean's friendship group, and the Winnie Cooper to his Kevin Arnold, Keisa is a character who has a lot of potential. She's incredibly smart and tough, as she is willing to stick up for herself in school. She is also not easily fazed by the boys' immaturity.
But there is a greater complexity to her character than just being a girl seen as "one of the guys." A sensitively written storyline focusing on her family's economic struggles led to a great amount of character development and strengthened her already close connection with Dean. Here's to hoping season 2 allows her more opportunities to shine.
Brad Hitman
There are many nerdy characters in the world of The Wonder Years reboot, but there's no one nerdier than Dean's good friend and fellow Knowledge Bowl team member Brad (a Jewish tween, who struggles with varying kinds of bias and prejudice in 1960s Alabama).
RELATED: Kevin Arnold's 10 Best Relationships On The Wonder Years
In the first season, Brad celebrates his Bar Mitzvah. Through this storyline in particular, the series introduces a great foil for Dean, who is so wrapped up in his own head and his own dramas that he doesn't often think about what his friends are going through. But in this episode and many others, the wiser than his years Brad is one of the only characters able to get through to Dean.
Kim Williams
Kim Williams not only begins The Wonder Years as a real pain in Dean's behind, but she is also a source of real aggravation for her mother, Lillian, as the two frequently clash over their dramatically different views of the world and women's liberation efforts.
Kim's relationships with her younger brother Dean, her mother Lillian, and even Dean's friend Keisa become some of the season's strongest storylines. Kim is still a passionate activist and a completely modern woman, but her slowly revealed soft and protective qualities in these three relationships allow her character to have some incredible growth.
Hampton
Hampton might be the least frequently featured member of Dean's central friendship circle, but there's no denying that he is the very best of them. Hampton is incredibly artistic and sweet, often exasperated by his friends' petty problems; however, he is always present to offer his advice in his own way.
RELATED: 10 Other Movies & TV Shows You Didn't Know The Cast Of The Original Wonder Years Were In
Although he is quieter than his more talkative friends, Hampton is often used for good-natured comedic relief. The episode in which he passionately chairs the planning committee for an "Under The Sea" themed school dance serves as a real highlight for the series to date, as it shows just how much Hampton can shine when he's given a more prominent role.
Bruce Williams
Bruce was a character that was only referenced in the first half the season since he had been deployed in Vietnam. When Bruce returns home for the holidays, and again after sustaining an injury in an attack that left some of his fellow soldiers dead, the series begins to delve into more complex territory in terms of emotion and race relations.
Bruce's storyline of re-integrating into society is relatively heavy topic for a sitcom to handle, but it is handled with grace thanks in large part to how wonderful a young man Bruce clearly is. He's already an incredible older brother, a great father figure to his girlfriend's son, and a true friend (as shown in the surprising reveal that his friend who he was unable to save in battle was Brian Cooper, Winnie's older brother in the original Wonder Years series).
Lillian Williams
Lillian is a fiercely proud and protective mother who works incredibly hard to ensure a better future for her children. Sadly, she has had to overcome several obstacles to do this as she has experienced several racist microaggressions in her workplace and social circle.
She might not always agree with her children's desires, particularly as Kim gets more vocal about activism and Bruce begins dating an older woman, but Lillian prioritizes their happiness and safety above all else (proving why she should be considered one of the best mothers on TV). In addition, her marriage with Bill is a true highlight of the series, as it completely foregrounds a passionate but complex depiction of love in the 1960s.
Dean Williams
As both the main character and narrator, Dean is the child equivalent of an everyman. He learns an important lesson about life each and every episode, whether it has to do with putting himself in another person's shoes, thinking more about the bigger picture of race relations, or even learning to be humble.
He makes plenty of mistakes along the way, as all children do, but he is so wonderfully endearing that it is impossible to fault him for anything. Equal parts nerdy, loyal, childish, and real, Dean is one of the best child characters on television today.
Bill Williams
Although Wonder Years might be Dean's show, there's nobody cooler than Williams family patriarch, Bill Williams. Bill is a music professor at an HBCU, which gives him a very different experience of the world than the rest of his family. He is snarky and reserved all at once, always knowing exactly the right dad joke to make even when the moment might not call for it.
He is often stubborn, however, he does admit to his mistakes in the end. He loves his children and takes a great interest in every aspect of their lives, even when they might wish he wouldn't. If the show manages to get many more seasons, then Bill Williams is truly on his way to becoming one of the most iconic television fathers.
NEXT: Which Cast Member Of The Original Wonder Years Are You, Based On Your Zodiac Sign?
Obi-Wan Kenobi EP On What Sets It Apart From Other Star Wars Series
About The Author
Share this news on your Fb,Twitter and Whatsapp
NY Press News:Latest News Headlines
NY Press News||Health||New York||USA News||Technology||World News