Australia
Donald Trump rockets back up rich list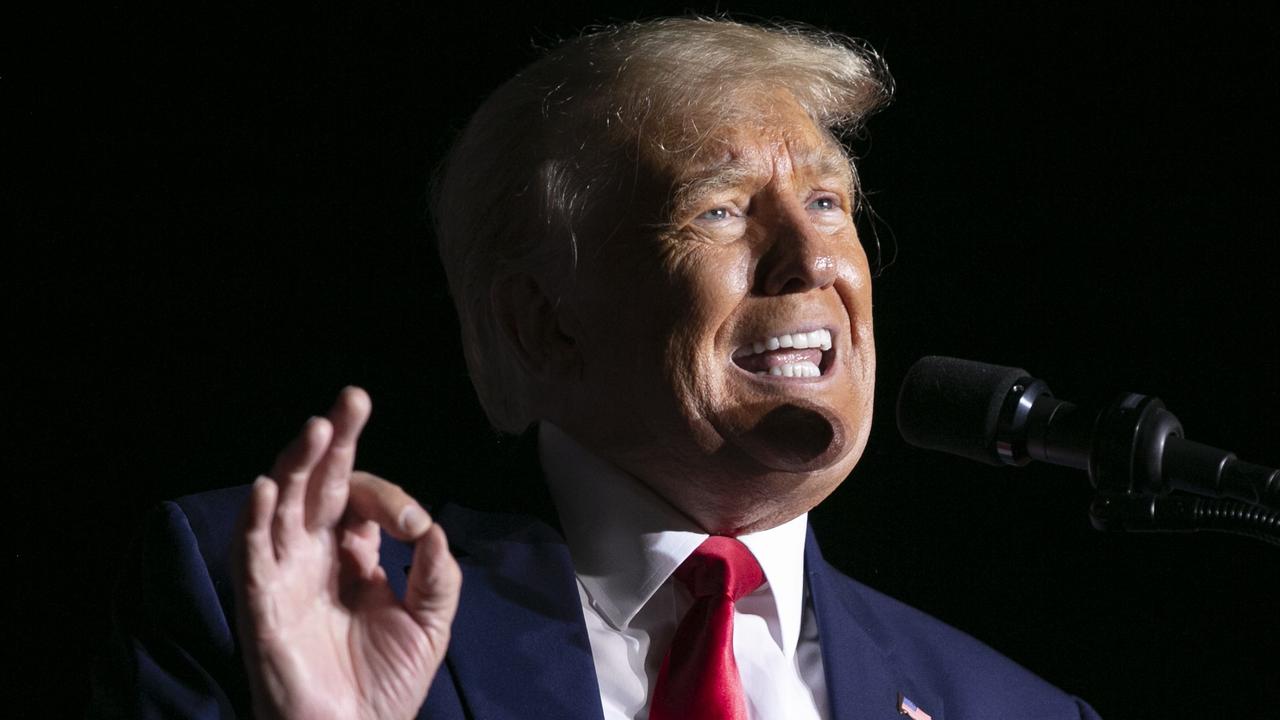 Donald Trump has rejoined a list of America's richest people a year after dropping off, thanks to the surprising success of his widely mocked social media platform.
The former US president, who faces a wave of legal problems including a recent $US250 million ($A388 million) civil fraud lawsuit in New York, saw his estimated net worth jump from $US2.5 billion to $US3.2 billion ($A3.9 billion to $A4.9 billion), bringing him back onto the Forbes 400 ranking at number 343.
"The roots of his resurgence go back to January 6, 2021, when the riot on the US Capitol prompted a backlash against the president," the publication wrote.
"Several companies tried to distance themselves from Trump, and Twitter permanently banned him from its platform. Nine months later, out of office and sitting atop a stagnant business empire, Trump announced the creation of a new company, the Trump Media and Technology Group, and its intended competitor to Twitter, Truth Social."
Forbes notes that the Trump Media and Technology Group is now the real estate mogul's single most valuable asset.
Mr Trump owns more than 80 per cent of the venture, which is attempting to go public via a merger with what's known as a special purpose acquisition company (SPAC).
While the merger process has faced a series of hurdles including federal investigations, retail investors have shown strong support for the SPAC.
As of the September 2 price of $US25 ($A39) per share, Mr Trump's 73 million shares would be worth $US1.8 billion ($A2.8 billion) – but Forbes puts the value of his holding at a more conservative $US10 ($A15) per share, equating to about $US730 million ($A1.13 billion).
"That alone would be enough to vault Trump back on to the Forbes 400, but he has had other recent successes as well," the publication noted.
"In May, the former president sold his hotel in Washington, D.C. for a reported $US375 million ($A582 million), far more than independent experts believed it was worth.
"That transaction allowed Trump to pay back a $US170 million ($A264 million) loan from Deutsche Bank and still take home an estimated $US135 million ($A209 million).
"Through a series of other deals, Trump refinanced or paid off another half dozen loans, leaving his balance sheet in a stronger position today than it has been in years, with roughly $US375 million of cash, up an estimated $US79 million ($A122 million) from a year ago."
It comes after New York Attorney-General Letitia James last week announced a $US250 million lawsuit alleging fraud by the Trump Organisation.
The company has denied any wrongdoing.
The suit alleges that the former US president, with help from three of his children – Ivanka, Eric and Donald Trump Jr – falsely inflated the value of his net worth by billions of dollars.
Two other senior members of the organisation, Allen Weisselberg and Jeff McConney, are also named.
Ms James claimed the Trump Organisation had made more than 200 "false and misleading valuations" of its worth between 2011 and 2021.
"With the help of his children and senior executives at the Trump Organisation, Donald Trump falsely inflated his net worth by billions of dollars to unjustly enrich himself and cheat the system," Ms James said.
One example cited of a "false and misleading valuation" was a Trump-branded building on Wall Street, in the heart of New York's financial district.
Valuations in 2010 and 2012 found the building was worth between $US200 million and $US220 million ($A310 million to $A341 million). But in 2011, the lawsuit said the firm valued the building at $US524 million ($A813 million) with that amount growing in subsequent years with the increase put down to valuations by "professionals".
"These acts of fraud and misrepresentation were similar in nature, were committed by upper management at the Trump Organisation as part of a common endeavour for each annual Statement, and were approved at the highest levels of the Trump Organisation – including by Mr Trump himself," the lawsuit stated.
The complaint claimed that this was part of an effort to gain tax and other benefits from banks and insurers.
The lawsuit also said that Mr Trump claimed he had cash on hand that he did not.
"Claiming you have money that you do not have does not amount to the art of the deal, it's the art of the steal," Ms James said, in a reference to the title of Mr Trump's 1987 book The Art of the Deal.
Ms James is looking for the recovery of the $US250 million in alleged funds and to bar Mr Trump and his children named in the lawsuit from being a director of a New York business. The suit also seeks to stop the company from doing business in the state.
Posting on Truth Social, Mr Trump derided the lawsuit as a "witch hunt".
"I never thought this case would be brought – until I saw her really bad poll numbers," he wrote. "She is a fraud who campaigned on a 'get Trump' platform."
He said banks and insurance companies "never had a complaint about me".
Alina Habba, a lawyer for Mr Trump, also dismissed the lawsuit.
"Today's filing is neither focused on the facts nor the law – rather, it is solely focused on advancing the Attorney-General's political agenda," she said in a statement to CNN.
"It is abundantly clear that the Attorney-General's Office has exceeded its statutory authority by prying into transactions where absolutely no wrongdoing has taken place."
Originally published as Donald Trump rejoins rich list after massive Truth Social windfall
Share this news on your Fb,Twitter and Whatsapp
NY Press News:Latest News Headlines
NY Press News||Health||New York||USA News||Technology||World News