UK
French Open 2022: Anisimova knocks out Osaka, Swiatek breezes through– live!
Diane Parry races to 0-40 and three set points, only for Krejcikova to save the first two. A dismal double-fault then does for her, though. Six games on the spin for the home player, who takes the second set 6-2 and the match to a decider.
Osaka raises Wimbledon doubts after exit
Naomi Osaka has been talking after her straight-sets defeat to Amanda Anisimova (11.42am) and is unsure if she'll head to SW19, especially after the decision to strip Wimbledon of its rankings points.
I would say like the decision is kind of affecting, like, my mentality going into grass, like I'm not 100% sure if I'm going to go there. I would love to go just to get some experience on the grass court, but like at the same time, for me, it's kind of like – I don't want to say pointless, no pun intended, but I'm the type of player that gets motivated by … seeing my ranking go up."
Make that five games in a row for Parry. She leads 5-2 in the second set.
John's just off for a well-deserved break. And things continue to liven up as Diane Parry holds and then breaks to 15. She leads 4-2 in the second set after reeling off four games in a row.
Ructions under the roof on the centre court as fans peel into the stadium. Seems the rules prevent them from coming in after the third game of a set. And then someone tried to sit in the wrong seat. Zut alors! It's 2-2 and Krejcikova looks very rusty after being broken. Does this give Parry some self-belief? Another shock in the offing? The crowd seem to think it could be.
Parry and Krejcikova continues to be a slow-burner, not really much doing at all, though the defending champion is 2-0 up after another break of serve. The home fans are cheering on Parry but she's not giving them much to work with.
Krejcikova completes the first set over Parry, taking it 6-1, though at a somewhat pedestrian pace. It's all a bit slow out there, with Parry's greenness easing the defending champion back into a rhythm after her long absence. The centre court is still rather empty, despite the Parisian weather outside.
Krejcikova surges to 4-0. looking in good nick despite having been out for three months with an elbow injury. Here's what she said before the match with Parry.
I don't really expect much. don't think expecting is something good for me. Expecting myself to do well after being injured for a long time, I don't really think that. But I think that I can be a good opponent. I think I can play well. And even after being injured, I think I had some time to recover and to practice, so I have been preparing for this. "So I believe when I start playing matches, I can be really dangerous again and I can do well here as well.
Per PA Media.
Britain's Harriet Dart narrowly avoided a dreaded double-bagel for the second time at a grand slam, losing 6-0 6-2 to Italy's Martina Trevisan in the first round of the French Open. The 25-year-old from London failed to win a game in a first-round defeat by Maria Sharapova at the Australian Open in 2019.

Dart must have feared a repeat at 6-0 3-0 down, but she at least managed to get a couple of games on the board and can console herself with almost 53,000 in prize money for her hour and 25 minutes' work.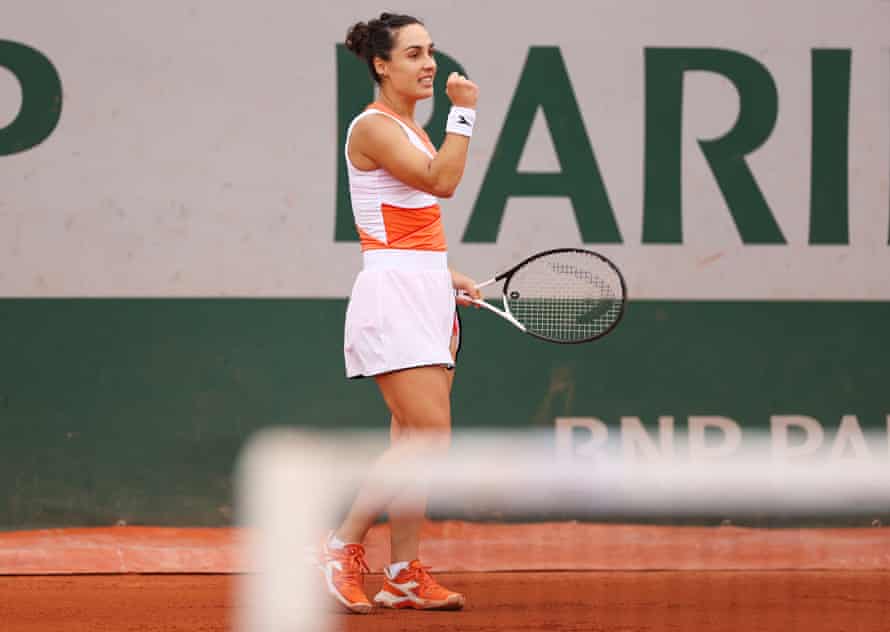 On Philippe-Chatrier, the defending champion and no 2 seed Barbora Krejcikova takes on France's Diane Parry, and takes an early lead by holding her serve and then breaking to go 2-0 up.
No Darty, no party? Another plucky Brit bites the dust. Cameron Norrie is due on court about now but rain has delayed that.
Il pleut. It's raining very heavily in fact.
Mats Wilander, a three-time winner at Roland Garros, speaks to Swiatek. "I found my rhythm. It's more humid [under the roof]. The roof is pretty tricky. I just want to keep going, I am aware one day my streak may stop. I am really happy that I finish early and then maybe I will go somewhere in Paris. You're going to see in my Insta story."
Swiatek beats Tsurenko 6-2 6-0
Swiatek races to match point in the second set against Tsurenko, delivering a second break of serve to get to 5-0 ahead. There's the germ of resistance on the Ukrainian's final service game, with a series of deuces, but a third match point arrives eventually. On a second serve, the Pole swats a winner home. The former champion and top seed got the job done in under an hour, 54 minutes to be precise.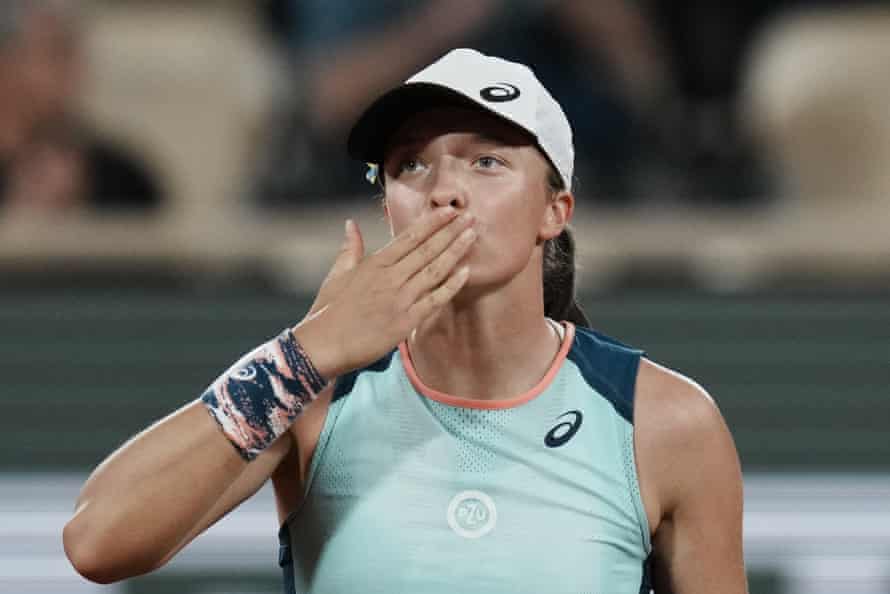 No Barty, no party, but Australia had a good Sunday at Roland Garros thanks to Jason Kubler.
It is still weird thinking someone wants your autograph. It is just me. It is not like I am anyone super famous. I don't know if I saved the day [for Australia] but I am personally happy that I won through. It is only the second time that I have won a main draw match, so in itself it is pretty exciting.
Swiatek is finding life easier under the roof, having won the first set 6-2, and then broken Tsurenko in the second game of the second set to lead 2-0.
Anisimova speaks on court where the rain is starting to fall. "I love playing here in Paris, in front of you guys. Merci, Paris."
Anisimova beats Osaka 7-5, 6-4
Anisimova starts with an ace, then Osaka can only hit the net cord. It's 30-0. Deep breaths, and then a crashing winner for three match points. The first sees Osaka tee up a smash Anisimova doesn't complete. Then she crashes into the net. Roars of encouragement on the next point, and with a backhand, the four-time grand slam winner is out. Osaka was rusty, and came up against a talented opponent playing high-quality tennis.
Osaka double faults again, to let Anisimova back into the game, but then the New Jersey girl makes a mess of a chance to hit a winner. She must now serve out the set. Both players look very nervy. 5-4 in the second set, Anisimova leads 1-0.
Anisimova's turn to malfunction? She coughs up three break points with some wild serving, but gets it back to 30-40, then deuce, with a second serve that was begging to be hit, but was hit wildly wide by Osaka. Then comes an ace, then a winner. That was quite the save, and Osaka is on sudden death, serving to stay in Paris.
Trouble, deep trouble for Osaka, trailing 4-3 now, having been broken. Another Osaka double – the sixth – hands the American a break point. A crashing serve levels it, only for an error to give Anisimova another chance. And then a seventh double duly passes over the lead. At one point, Osaka was down on her haunches, suggesting she may have a physical problem.
Anisimova's turn to face down a potential break of serve, and she does so to make it 2-2. But then, with Osaka rocking again, the young American has a chance for a winner she smoshes way out of court, handing Osaka a 3-2 lead.
Iga Swiatek is on court, under the roof, and is 3-0 up on her Ukrainian opponent, Tsurenko, find life far easier than Osaka.
It's been shaky so far by Osaka, and she's not helped by being up against an opponent now serving well and at the top of her game. And is returning like a demon, too. At 1-1, Osaka is taken to deuce, and then a double fault coughs up another break point. This time, she engineers a winner. Then comes an un-returnable crasher of a serve. And then another. 2-1 in the second set, Osaka hanging on grimly for now.
One year on from her incident, and after taking a break from professional tennis at the end of the season, Osaka has returned to the French Open and on Thursday she conducted her pre-tournament press conference. She admitted that her return to the French Open was a source of consternation.

"I'm not gonna lie," she said on Friday. "When I first came here, I was very worried. Of course I also didn't like how I handled the situation, but I was worried that there were people that I offended some way and I would just kind of bump into them. But I think like everyone has been really positive, for the most part."
And Anisimova serves out for 7-5, Osaka's game has suddenly gone to pot.
Anisimova saves three break points, and then Osaka's serve falls apart in the next game, a double fault handing the American a 6-5 lead and the chance to serve for the set.
Osaka and Anisimova has been a largely even contest so far, going with serve, though Osaka can claim the first set with a break of serve with the score at 5-4. Her own serve did not exactly look tip-top in the last game.
En Paris, il fait mauvais, so it feels like this could be a day spent on the show courts only. On Suzanne Lenglen, Naomi Osaka, will kick off early doors with her match against Amanda Anisimova, the 27th seed. And on Philippe Chatrier, it's the no 1 seed, Iga Swiątek takes on Lesia Tsurenko, the Ukrainian, who is likely t0 have the crowd on her side. And in the men's, Novak Djokovic, back playing grand slam tennis, begins his assault on the title he won for the second time last year, by taking on Japan's Yoshihito Nishioka. Djoko is last on Philippe-Chatrier, whereas Rafa Nadal, looking for a title number 14, take the lunchtime shift, playing Australia's Jordan Thompson.
And there's some action for the plucky Brits, too, with Cameron Norrie, the 10th seed, taking on France's Manuel Guinard, Heather Watson taking on Elsa Jacquemot, the French teenager, and Emma Raducanu trying to recover her form on the grandest stage when she takes on 17-year-old Linda Noskova from the Czech Republic.
Share this news on your Fb,Twitter and Whatsapp
NY Press News:Latest News Headlines
NY Press News||Health||New York||USA News||Technology||World News