Entertainment
How Frida Kahlo's Life and Work Impacted the Way We Look at Día De Los Muertos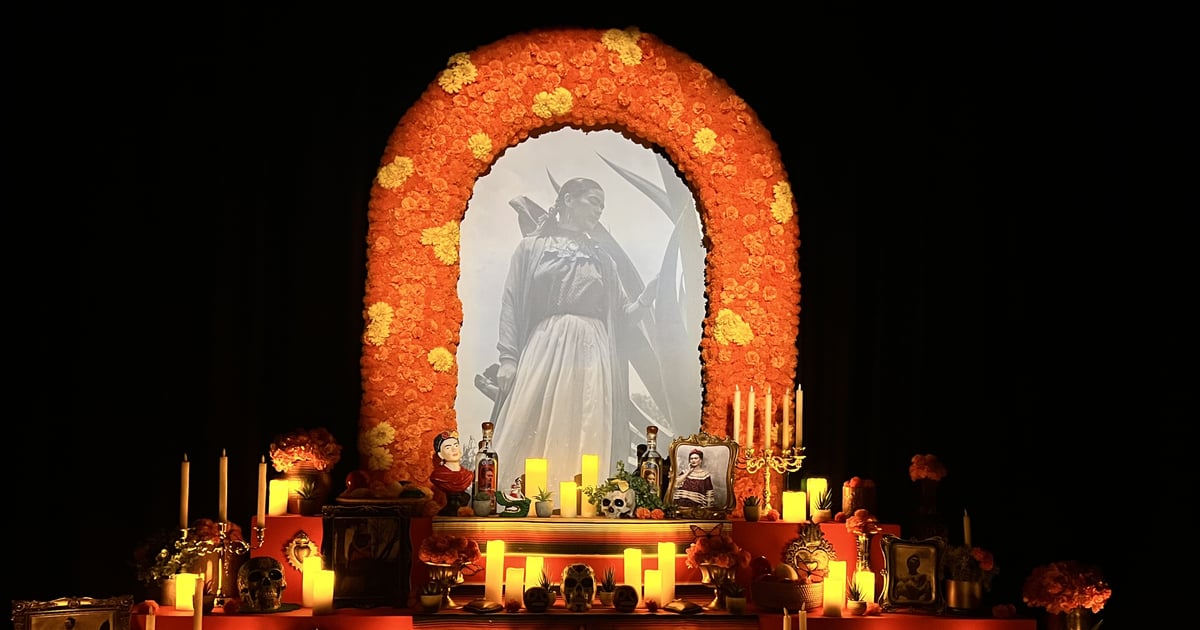 [ad_1]
Image Source: Zayda Rivera
Frida Kahlo's art and image adorn Día De Los Muertos ofrendas around the world. Over the years, the Mexican artist has become the epitome of what this beautiful holiday celebrates and symbolizes from Nov. 1 (All Saints' Day) to Nov. 2 (All Souls' Day). As people place photos and items honoring deceased relatives on their ofrendas during Día De Los Muertos, they are inviting their souls to return for a visit, if only for just a moment. The Aztecs began this ritual around 3,000 years ago to celebrate the lives of ancestors who passed instead of grieving their loss. By celebrating the deceased, the Aztecs welcomed the return of their loved one's spirits to the land of the living once a year. So, many are honored to invite Kahlo's spirit into their home during the holiday when it is believed that the veil between life and death is thinner than at any other time throughout the year.
Arianna Davis, author of "What Would Frida Do? A Guide to Living Boldly," recalls how on a visit to Mexico City in 2019, while doing research for her book, she witnessed "so many hints of Frida everywhere."
"One of the things that she's known for is her very colorful and very vibrant artwork, and so much of it is influenced by Mexican culture," she says. "So, I think it's a little like the chicken before the egg situation. So much of her art is influenced by Mexican culture, and so much of Mexican culture is now influenced by Frida. It all really goes hand in hand. Now, I think a lot of her paintings and her work have become synonymous with not just Día de los Muertos but also just Mexican culture in general." Kahlo's life story and work were immortalized after her death in 1954. During her life, she was not known as the world-renowned, iconic painter she is today. Instead, her husband, Diego Rivera, was a star artist known around the world at the time.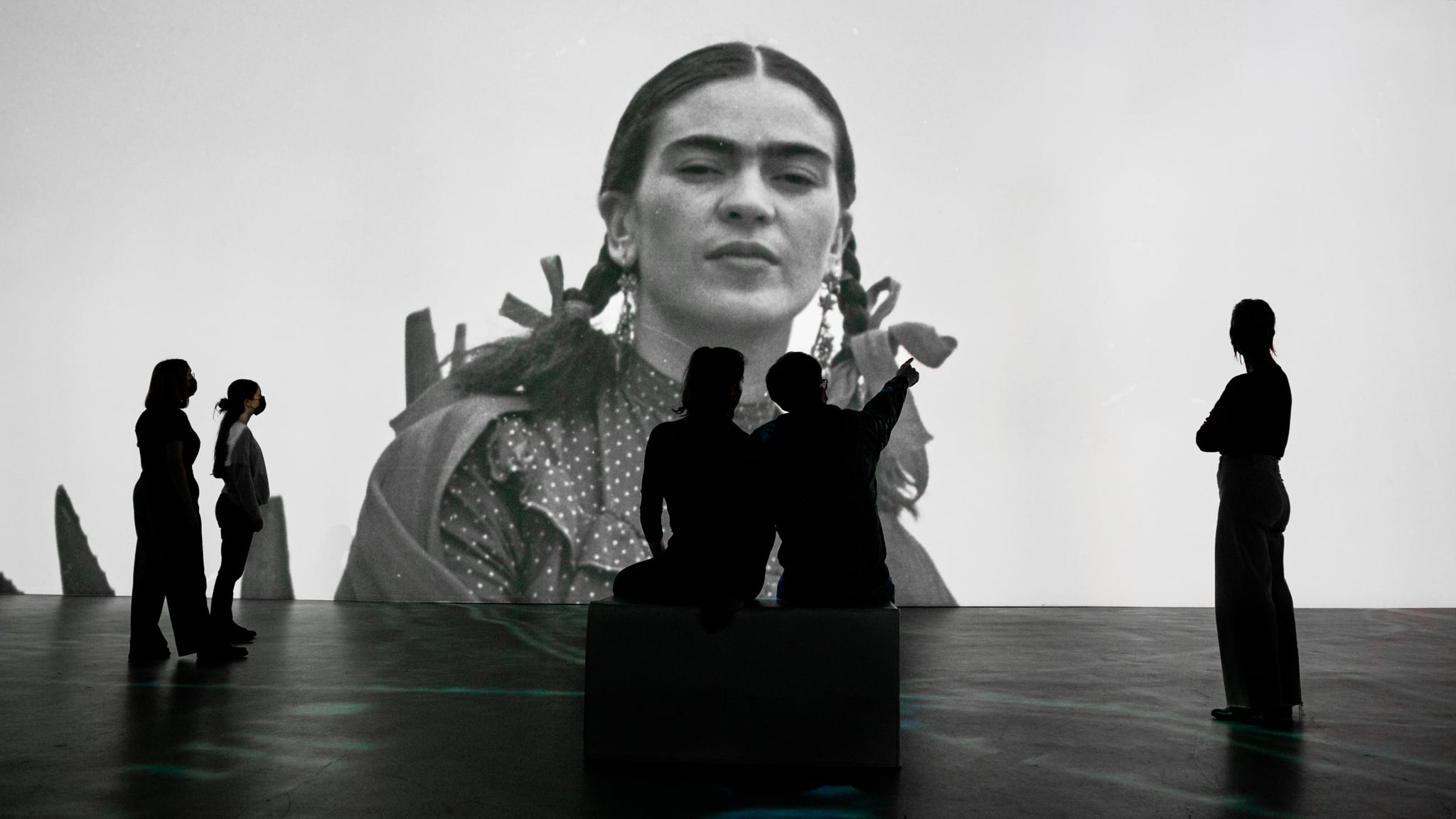 Image Source: The Frida Kahlo Corporation
"It wasn't until the '80s and into the '90s that Frida really started to become known in the art world," Davis says. "That was more than two decades after she died." During that time, the world was changing and things like the Chicano and feminist movements were taking place, both of which Kahlo symbolized. "She just started to be a symbol for anyone who wanted to celebrate being different, and wanted to celebrate what it meant to be other," Davis explains. "Madonna, who was a huge pop star at that time, was a well-known fan of hers. There was a biography in the '80s that came out about her life. So, all of these things over time have contributed to what a big cult status she started to have long, long after her death."
In 2002, the movie "Frida," starring Salma Hayek and Alfred Molina was released, bringing Kahlo's life and work to the big screen. The film garnered nearly $57 million at the box office worldwide. "Over time, she became more and more like this big figure: first in Mexican culture, then in the feminist movement, and then kind of just mainstream culture as a whole," Davis says. "I think a lot of Mexican people are just extremely proud of that and extremely proud that someone with a story like hers is now on T-shirts and tote bags and murals all over the country and all over the world."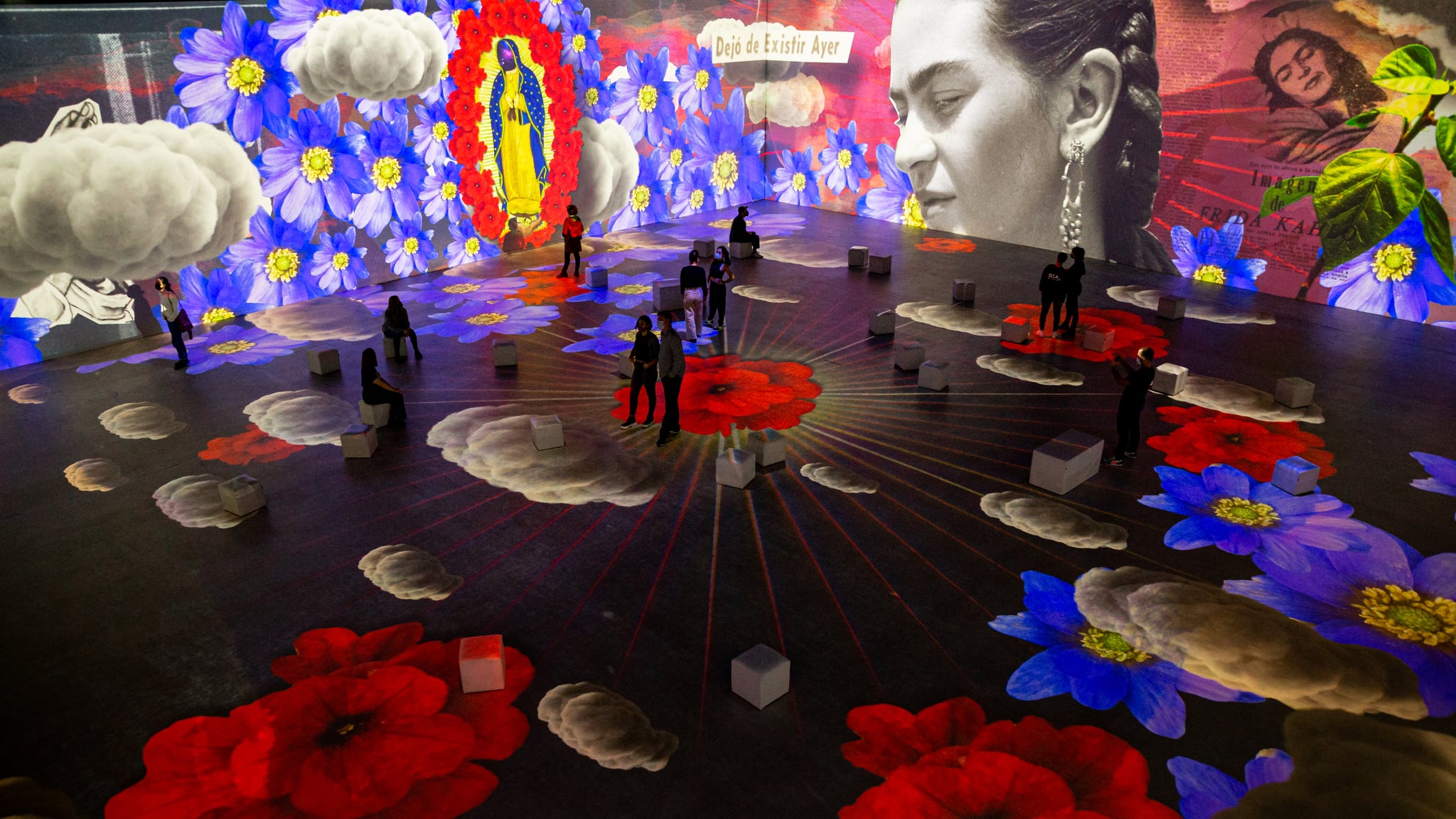 Image Source: The Frida Kahlo Corporation
Kahlo's work focused heavily on death, destruction, identity, and the bridge between the human body and the soul. The connection between her life's work and her immortality after death also makes Kahlo a symbol easily identifiable with Día De Los Muertos. On Oct. 27, the "Frida Kahlo, The Immersive Biography" Exhibit opened in Brooklyn, NY, and visitors were taken on a journey into the life of the Mexican artist, the only Frida Kahlo experience backed by the Frida Kahlo Corporation. Through seven different interactive rooms, VR experiences, and more, fans got to see Kahlo and her work in a whole new and very modern way.
"She's just such a symbol of embracing being other and being different," Davis adds. "And now, on Día de los Muertos where you're celebrating the Aztec history and you're celebrating Mexican history, but you're also celebrating the spirits and the people of the past, who mean so much to the culture — she's become symbolic of that as well."


[ad_2]
Share this news on your Fb,Twitter and Whatsapp
NY Press News:Latest News Headlines
NY Press News||Health||New York||USA News||Technology||World News