Entertainment
Madeleine Arthur Made a Best Friend on the "Blockbuster" Set — It's a Trend in Her Career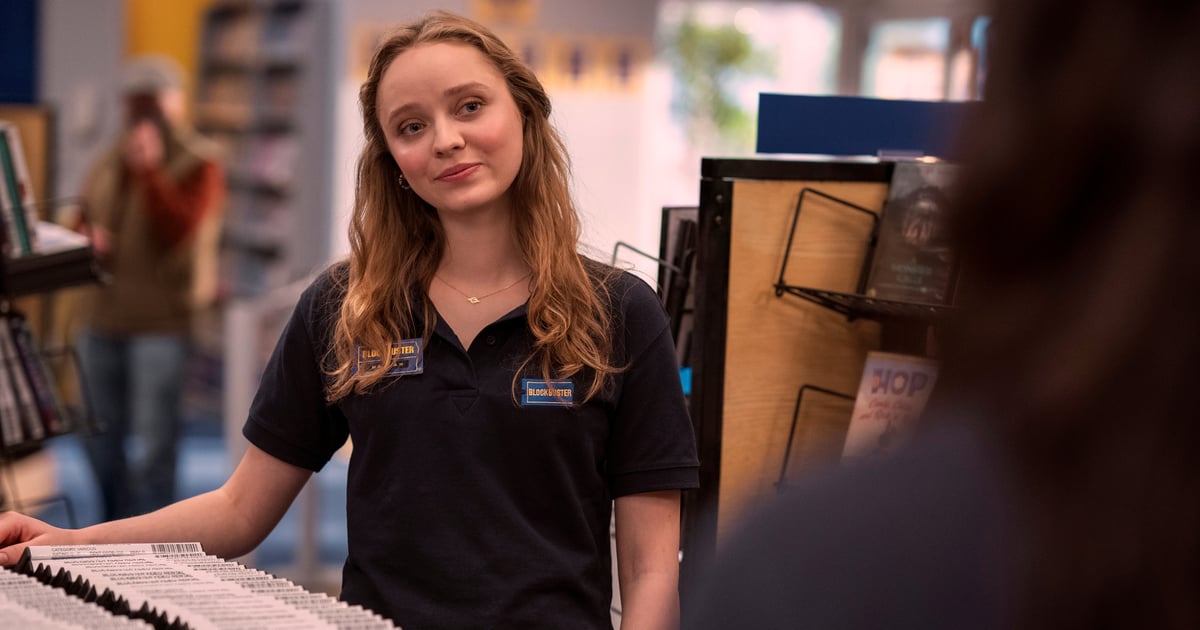 [ad_1]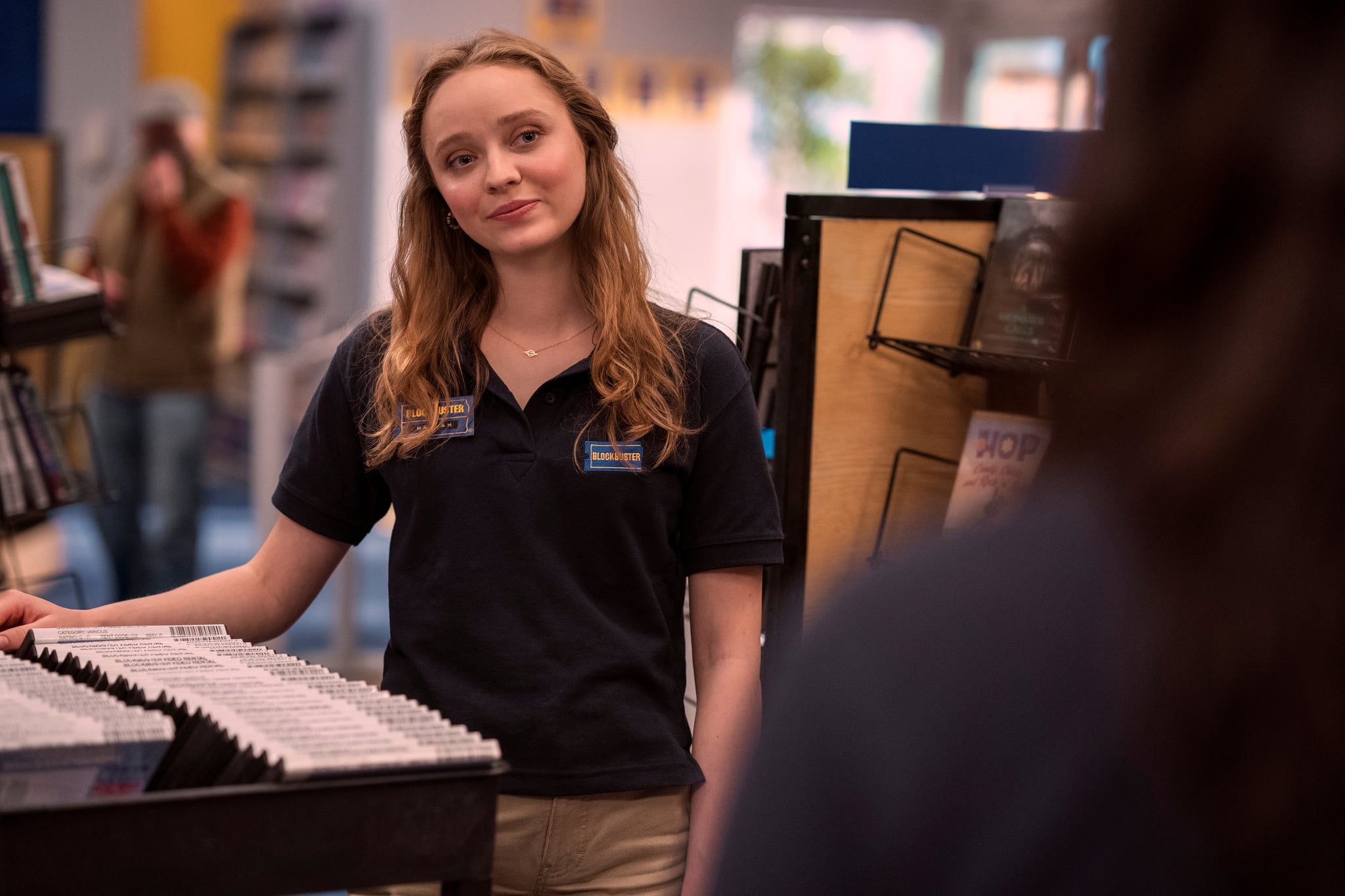 Madeleine Arthur grew up going to the Blockbuster in her neighborhood; it was walking distance from her house in Vancouver. "I remember specifically the layout of where the new releases were," the actor tells POPSUGAR. "They were on the right side of the store."
Of course, her hometown Blockbuster is gone — it's a vintage clothing store these days. But she still remembers her family's frequent trips. "I loved going," the 25-year-old says. "I feel like it's what sparked my love for movies, going to pick out movies every week."
So it's fitting that Arthur is now a cast member of Netflix's "Blockbuster," a nostalgic series following the employees at the last Blockbuster in the world. The show is "a celebration of movies, and it's about rekindling human connection in this digital world," she says.
Arthur plays the super-sweet Hannah, a young woman who maintains a sunny outlook despite her conspiracy-theory-obsessed dad and the feelings of dread that sometimes overtake her other coworkers. Hannah is a helper who sees the best in people, even if her own head is stuck a little in the clouds.
"What I connected to with Hannah was her optimism, and then she's extremely quirky," Arthur says. An ongoing plot in season one, for example, is about Hannah being bizarrely cheap, prompting her coworkers to try to get her to relax and treat herself.
For Arthur, there was also the draw of the series's cast, which includes sitcom stalwarts like Randall Park, Melissa Fumero, and J.B. Smoove. "They're such comedic geniuses, and their timing's impeccable," she gushes. "I just loved learning from them and getting to act opposite them. Honestly, I just was so happy every day on the set of 'Blockbuster.'" The trio, she says, were "consummate professionals," and she was inspired seeing how prepared they were every day.
Beyond the show, Arthur says, the more experienced actors were "so open and gracious in giving advice" to the younger cast members about their careers. One episode of the series involves Park's Timmy referring to himself as "the Blockbuster daddy," and Arthur agrees that he earned that title during production, too. "He was definitely a great leader. A leader of the 'Blockbuster' family in the show and off set," she says.
One of the show's sweetest (and funniest) relationships is between Hannah and her older coworker Connie, played by legendary "In the Heights" star Olga Merediz. It's a cross-generational friendship that isn't made for cheap laughs; the characters really love and care for each other, even if Connie doesn't always get Hannah's Gen Z references.
"Olga is a little bit of a mother figure in the show, and then she felt like my mother figure on set," Arthur says. "She is so funny, and I just love any opportunity to get to play opposite her. . . . Whenever I got a script and there was a Connie-Hannah moment, I got very excited."
Then there's Hannah's relationship with coworker and aspiring filmmaker Carlos, played by "American Vandal" breakout Tyler Alvarez. The two characters are super supportive of each other's dreams, even if those desires sometimes seem too far out of reach. And that dynamic transferred off screen, too.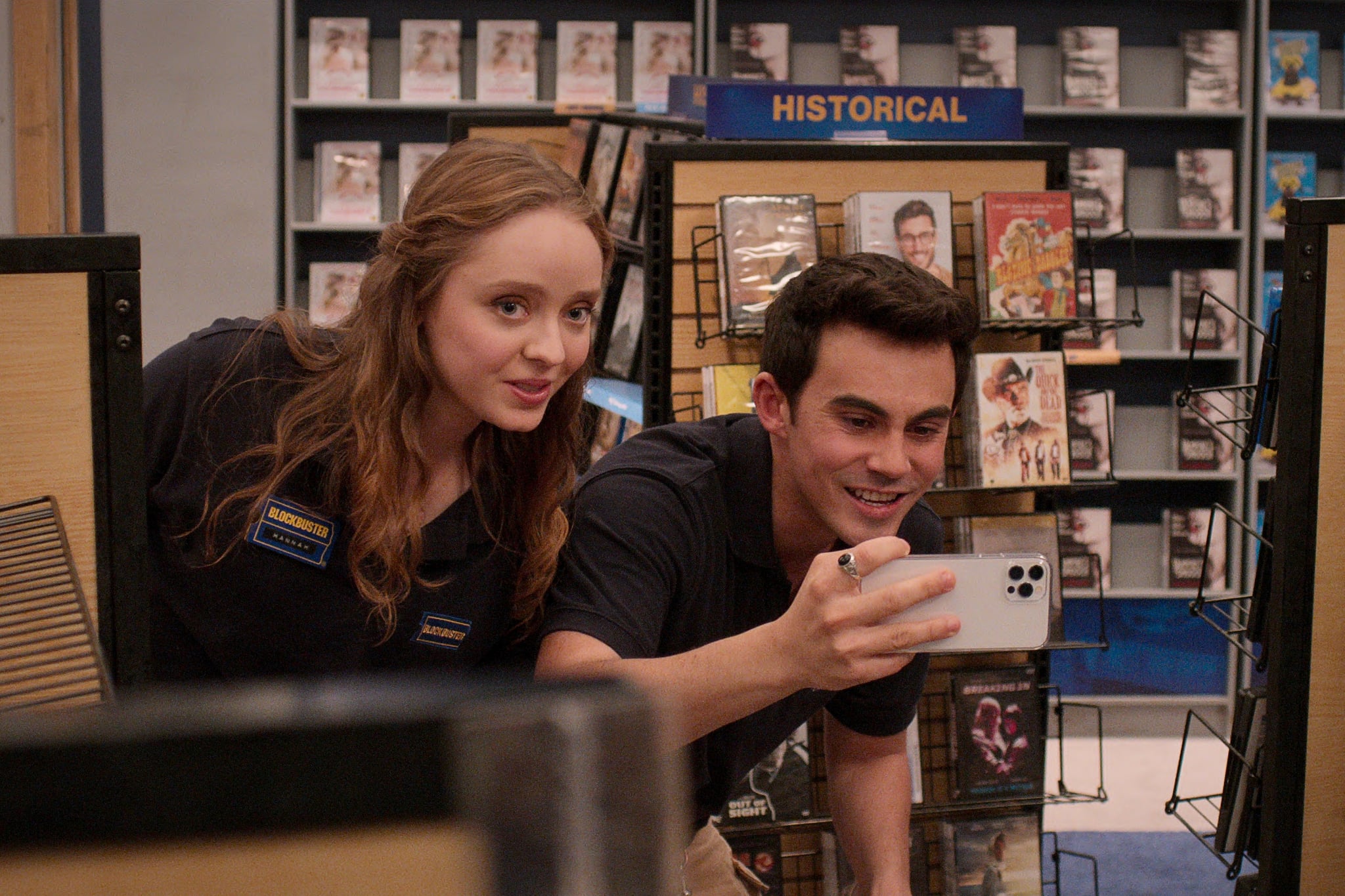 "Tyler is one of my best friends now, and I'm really grateful that the show brought us together," Arthur says. During filming, they took a little weekend spa trip together, and they love to seek out "good food" together, she adds.
For Arthur, the whole "Blockbuster" experience was infused with warmth and generosity, and nothing epitomizes that more than her favorite day on set. During their lunch break, the cast and crew gathered to watch an early cut of one of the episodes. "They had a big projector, and they had popcorn set up, and they had candy set up," she remembers. "That was really special. I'd never been on a show where you brought all the cast and crew together in the middle of filming and showed an episode."
As a memento from season one, she kept the "Hannah" name tag she wears on her Blockbuster costume in every episode.
"Blockbuster," though, is just another stop in Arthur's already impressive career. She broke out in 2018 as Christine, Lara Jean's friend in the To All the Boys series of films. And in September, she starred as Mae in Netflix's cult series "Devil in Ohio."
"I really love getting to explore different emotions and the depth of [darker roles], and 'Devil in Ohio' was wonderfully challenging in that sense, because I was playing a cult escapee escaping a traumatic past," Arthur says. "'Blockbuster,' it's just as emotional, but in a different way. It's been an exciting kind of year and a half in that sense, to get to do two vastly different projects that I really have enjoyed doing."
And in her experience working on "Devil in Ohio," she cultivated relationships similar to those on "Blockbuster." Arthur starred alongside Emily Deschanel, who she calls "such a good role model." She is still close with the cast and says they just got dinner together the other night as a "little reunion."
It's a trend — Arthur is clearly great at picking up friends from the sets of her projects. "Lana's one of my best friends," she says of Lana Condor, the star of To All the Boys. "We'll get together for dinner every so often or go do something. When you do three movies you really get to know people, so it was a very special experience."
It's not just the relationships, though. Ultimately, Arthur loves to perform: she says she was "a little bit of a ham as a kid." She was a gymnast, and her favorite part was the floor routine because it had a dance element. "I was really dramatic with mine," she jokes. She went to theater camp and read a book about theater as a preteen and "just became obsessed."
For now, Arthur can't spill the beans yet about any upcoming projects, but she wants to keep doing what she loves most: being on set and acting. As she puts it: "I just love getting to step into different shoes and to get to play and tell a story that hopefully has an impact on someone."
And because she's a movie buff herself, she appreciates the wide range of stories there are to tell on screen: thrillers, spy movies, classic comedies, and everything in between.
"At the end of the day, I'm an actor, and I think that cuts across all genres," Arthur says. "I don't want to ever be only telling one type of story or in one kind of tone. I like to explore it all, and I just love exploring human behavior. That's where it's at for me."
"Blockbuster" streams Nov. 3 on Netflix.


[ad_2]
Share this news on your Fb,Twitter and Whatsapp
NY Press News:Latest News Headlines
NY Press News||Health||New York||USA News||Technology||World News